**************************************************
Reverend Dr. C. William Wealand was named Pastor Emeritus at UCC at The Villages and received a very generous donation for the Disaster Ministry of the Florida Conference.
****************************************************************************
Sincere Condolences to the Family & Friends of Ruth Kelsey who was a long time member of the Church. She Served on the Diaconate & Fellowship Committee + various Outreach Programs-giving tirelessly of her Time, Talents & Money.
Well-Done Thy Good & Faithful Servant.
*********************************************
Sincere Condolences to the Family & Friends of Ruth Steinheiser who passed on to her Heavenly Reward. Funeral Services will be held at Union Congregational Church-Holly Hill, FL on Saturday November 8th at 3:00pm.
*******************************************
In Memory of Anna Post - She & Vic would have celebrated their Golden Anniversary on Sept. 20th 2014.
******************************
Sincere Condolences To The Family of Vic Post on the Death of his Sister, Judy
********************************************************
A Celebration of Life for Dee Carroll was held at UCC on Saturday June 7th at 1:00 pm
**********************************************
Sincere Condolences to the Family & Friends of Olga Lincoln.
**********************************************
Sincere & Heartfelt Condolences to the Family & Friends of Rev. Don & Toni Steedly in the passing of their Son, John Fonock.

Sincere & Heartfelt Condolences to Rev. Bill Wealand & Family in the passing of his brother in law.
**************************************************************
CHURCH CALENDAR ONLINE
Calendar Reminder - Union Congregational Church
(CLICK HERE TO VIEW CURRENT CALENDAR)
UCC ALTAR FLOWER SIGN UP CALENDAR
~~Flowers for the Communion Table can be requested by completing an altar flower form in the narthex, as well as penciling your name on the Altar Flower/Communion Table sign-up sheet, also in the narthex. Then put your altar flower form and $17.00 check (or more for a larger arrangement) into the offering basket, or bring them to the office. Johanna will call you to take your request as to choices of color and flower selections before the flowers are ordered.
**************************************************************
HAPPY BIRTHDAY BLESSINGS......JAMES 1:17
EVERY GOOD AND PERFECT GIFT IS FROM ABOVE
MARCH BIRTHDAYS: Bud Leill (2), Don Cook (6), Robert Brown (7), Mary Margaret Franklin (8), Anne Gassett (10), Tom Pell (10), Corrinne Stock (17), Gladys Touchet (21), Marlene Anderson (25), Mark Harmon (28), Gary Grunwaldt (30).
****************************************
CHURCH FAMILY NEWS
GRANDPARENTS MELINDA & NORM FERRIS WITH RAELYNN
BETTY JOHNSON FORMER UCC FELLOWSHIP
CHAIRMAN & MARY MARTHA CIRCLE PRESIDENT ON JENNIFERS WEDDING DAY
HAPPY 90TH BIRTHDAY TOM SCHILLINGS
KEEP ON CELEBRATING!
HAPPY ANNIVERSARY REV. JOE & CORRINNE STOCK!
KEEP ON CELEBRATING!!!
HAPPY THANKSGIVING FROM THE CULP FAMILY
MISSIONARIES-FOR HIS GLORY TO THE NATIONS
GRANDMA PAT COOK & HARPIE
GREAT GRANDPA REV. BILL WEALAND & CAROLINE
GREAT GRANDMOTHER DEANNA WITH
CAROLINE
ETHAN SIMPSON IS READY FOR SOME FOOTBALL!
MERRY CHRISTMAS FROM THE BARKER FAMILY
***********************************************
HALIFAX URBAN MINISTRIES (click here)
H.U.M.
By donating food to Halifax Urban Ministries we participate in homeless prevention: the 'HUM Love Your Neighbor Food Drive' donations free up funds to help families in ways other than purchased food. For example, help with rent, utility payments, etc. There has been an increased need in Volusia County for food assistance… Please, remember to bring your donations to Sunday worship and drop them in the Blue Tub. Many thanks!
**************************************************
FAMILY RENEW COMMUNITY (click here)
Volunteer Position Filled: Thank you to Tom Donovan for stepping forward to succeed Diane Johnston as our delegate to the board of Family Renew Community. Diane 'passed the baton' to Tom following eight years serving as our delegate to FRC. Tom, we're certain you will bring a wide range of interest and experience to this wonderful organization as well!

A heartfelt Thank You to you, Diane, for your dedication and vitality in your service to FRC.
UCC Member Diane Johnston in group photo of Family Renew Community Officers being reinstated for2014
ANNUAL FAMILY RENEW SUNDAY AT UCC 2014
Claris Mac'Kie, Director of Family Renew Community & Diane Johnston Former UCC Representative and Vice President of the FRC Board.



********************************************
THE KNIT WITS
THE KNIT WITS (L-R: Rear: Karen D'Amadio, Norma Dannug, Millie Sweazy, Rev. Steve Heath, Cindy Blounts, Deanna Wealand, Pearl Buckel. Seated: Ruth Steinheiser) The Knit Wits are happy to be sending 29 scarves to the UCC General Synod 29 in Long Beach California protesting violence and bullying.

Special thanks are given to Margaret Symonette (from Bethune-Cookman University) and Shirley Bartley (Millie Sweazy's neighbor) for contributing their talents and crocheting skills by making several scarves.

As you can see in the picture below, the colorful scarves covered and even overlapped the conference room table.

We doubt Rev. Steve had a hand in the knitting; his contribution was a beautiful blessing ceremony over the handiwork, the Knit Wits, and those who will receive these scarves.
News from Rev. Bill Wealand From General Synod 2013....They set a bold goal: 3,000 hand-knitted, crocheted, or woven scarves, bright with rainbow color, for delegates & visitors to General Synod 2013 to wear, declare, & pass along. They received enough to go over nine miles, laid end to end: 10,000 scarves to splash a message of inclusion, if not over the sky, over the shoulders & over the hearts of everyone willing to make a simple pledge: to take action against bullying. (Quote from General Synod Email Report.) A General Synod video shows Lizanna Angeli, Michelle Long, & Julia Van Fleet, young people from Naples, Florida carefully examining the piles of rainbow scarves, searching for just the right one among all the beautiful creations. Both Angeli & Long have friends who have been bullied about who they cared for. "I have a friend who's gay," said Van Fleet. "I don't think he's being bullied but I want to support him." Many of the Florida Conference Congregations have members & friends who worked for months knitting & crocheting scarves for the Synod. We're Proud to report, 'Our Knit Wits" sent 29 scarves to General Synod 29! Click on this link to view the video:

http://www.youtube.com/watch?v+TzE03Q9R9HM&feature=player
*******************************************
UCC MARY MARTHA CIRCLE ANNUAL SPRING LUNCHEON 2014 LIVING TIMELINE PERFORMANCE BY MMC MEMBERS IN HONOR OF OUR CHURCHS' 100TH ANNIVERSARY & A HISTORY OF THE BENEVOLENCE & PRAYER MINISTRIES + INFO ON THE PROGRAMS WE SUPPORT & A TRIBUTE TO PAST MMC PRESIDENTS. PHOTOS BY PETER DANNUG-Edited & Downloaded by PEGGY FOSTER BARKER
(Click on Link to View-then Click on Open this Content in a New Window)
***************************************************************
UCC MARY MARTHA CIRCLE ANNUAL SPRING LUNCHEON 2013 PHOTOSHOW
MARY MARTHA CIRCLE ANNUAL SPRING LUNCHEON 2013
HELD AT HALIFAX PLANTATION-OFFICERS
***UCC MARY MARTHA CIRCLE & FRIENDS MEETINGS RESUMED IN OCTOBER***Come Join us (watch Church Calendar (Bulletin & Chatter) for Meeting Dates & Times. The Ladies Group Continues Their Ministry of Helping & Praying Hands All Year Long......Luke 10:38-42
The UCC Mary Martha Circle would like to thank everyone who donated items for the Emory L. Bennett Veterans Nursing Home in Daytona Beach. The Gifts were delivered by Veterans Advocates-John & Peggy Barker & were received with gratitude & happy smiles. There were lots of socks, houseslippers, scarves and lap robes plus Christmas Cards for everyone along with notes of Appreciation & Boxes of Candy for the Nurses on both Alpha & Delta Wings. Poinsettia's were Given by Ruth S.-In Memory of Marion & Bill Steinheiser. Again, thank you for Blessing Our Veterans in such a wonderful way. Please continue to remember them in your prayers.

Merry Christmas & Happy New Year!

*A SPECIAL SALUTE IN HONOR & REMEMBRANCE OF VETERANS STANLEY OSBORNE, BOBBY BOOTH, WILLIAM SULLIVAN AND TERESA WORTHINGTON WHO ARE SPENDING CHRISTMAS IN HEAVEN THIS YEAR.
********************************************************
UCC 100th ANNIVERSARY CELEBRATION
Dear Fellow Church Members, Friends, and Family,

The 100th Anniversary Committee is made up of volunteers, in no particular order: Ed and Karen D'Amadio, Diane Johnston (Scribe), Rev. Joe Stock, Russell Rhodes, Rev. Steve Heath, Rev. John & Ramona Nutting, Mary Margaret Franklin, Tom Donovan, Linda Davidson, Pearl Buckel, Eileen and David Heald (Coordinator).

Members have been meeting monthly since March and we have established four guidelines.

1. We want to Celebrate our Victory & Milestone

2. Expand our Outreach Potential with an Open Social & Theological Perspective

3. Express our Liberty through Freedom of Congregational and Individual Choice

4. Exhibit our Friendly and Genuine, but not desperate, natures

To that end, we set these goals:

A. Publish a full color Church Directory

B. Develop a Celebration Statement

C. Coin a Motto

D. Design a 100th Logo

E. Create a Dynamic Time Line Display in church

F. Solicit and Publish Recipes for 100 Years of Good Cookin'

G. Celebrate each decade with a presentation every month, beginning 1/1/14

H. Initiate a Special Project from ourselves, to ourselves

o Directory Photos – January 14, 2014, published soon after.

o Celebration Statement – Throughout 2014, Union Congregational Church-Holly Hill's oldest church-will celebrate its first 100 years as a caring community of faith; seeking the unity of all, the conformity of none, and the leadership of Christ.

o Motto – Growing Faith, Family & Friendships

o Logo – Designed by Amanda Johnston, daughter of Todd & Diane

o Time Line – Concept provided & will be fulfilled by Linda Davidson

o Cook Book – recipe deadline October, published by Christmas 2013

o Monthly Events Scheduled – will be revealed and detailed later

o A Special Project – After considering several ideas at length, the committee is recommending the purchase of a new, state of the art LED sign. Our second choice is for a Tranquility / Serenity / Meditation or Prayer Area that would incorporate the bricks from the cross, along with a shade Pergola, seating, water-feature and garden plantings/landscaping.

Although not specifically charged with these duties or responsibilities, the 100th Anniversary Committee has identified and well recommend funding additional repairs/improvements around the church property. The result will be a visual improvement for our 100th year as well as to catch up on deferred maintenance and safety issues.

1. Install a privacy fence around the air conditioning system and irrigation pump on along the South side of the church (aesthetics)

2. Replace the old, uneven walkway from the Fellowship Hall to the office and housing building on the hill (safety)

It was determined by the committee that no capital campaign would be initiated for the listed improvements and repairs. Rather, we wanted to accomplish the goals with an ambitious use of church funds, while not depleting reserves needed to cover future emergency expenses or other unanticipated needs.

Our church is currently operating within our budgeted expenses and annual giving. Our reserves have grown and there is no foreseeable capital expenditure that would adversely affect the investments.

When measured against all other churches in the conference, our church is a generous church. At this juncture, between our first 100 years and the next 100 years, we would like to accomplish giving something from ourselves, to ourselves.

Respectfully submitted,

David N. Heald

Coordinator - 100th Anniversary Committee
100th Anniversary Party!
| | |
| --- | --- |
| Date: | Sunday, January 12, 2014 |
| Time: | 11:30AM |
| Category: | Fellowship |
The 100th Anniversary Committee is hosting a Birthday Celebration after church. A special Banner, hand made by the "Knit Wits" will be dedicated and the first decade of the Time Line will be unveiled. Also Coffee and a Birtday Cake and Ice Cream will be served and some 100th Birthday commerative gifts will be presented to the Congregation, along with a Banner that will be displayed on the front porch all year long. You don't want to miss this fun kickoff to our next 100 years.
UCC 100th ANNIVERSARY PHOTOSHOW 2014 (part 1) Click here to view. Timeline by Linda Davidson, Photos by Rick Sandora, PhotoShow by Peggy Foster Barker
UCC EASTER 2014 Timeline PHOTOSHOW (click here) Photos Compliments of Rick Sandora
JULY
AUGUST
SEPTEMBER
OCTOBER
NOVEMBER
DECEMBER
*****************************************
PEGGY FOSTER BARKER (volunteer)
WEBMASTER & FACEBOOK ADMIN. 2013-2015
WORSHIP ON THE WATER was a huge success! Pictured below are Rev. Karen Curtis-Weakly, Rev. Bonnie Lipton, Rev. Raymond Hargrove, Rev. Bill Wealand, Rev. Steve Heath , and Rev. Joseph Stock who all participated in the worship service.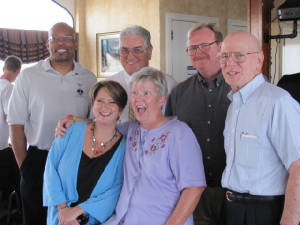 Yvonne Harris performing during the service.....
YVONNE HARRIS - CHURCH MUSIC DIRECTOR 2002?-2014
***********************************************************
Rev. Bonnie Lipton and Rev. Joseph Stock during Communion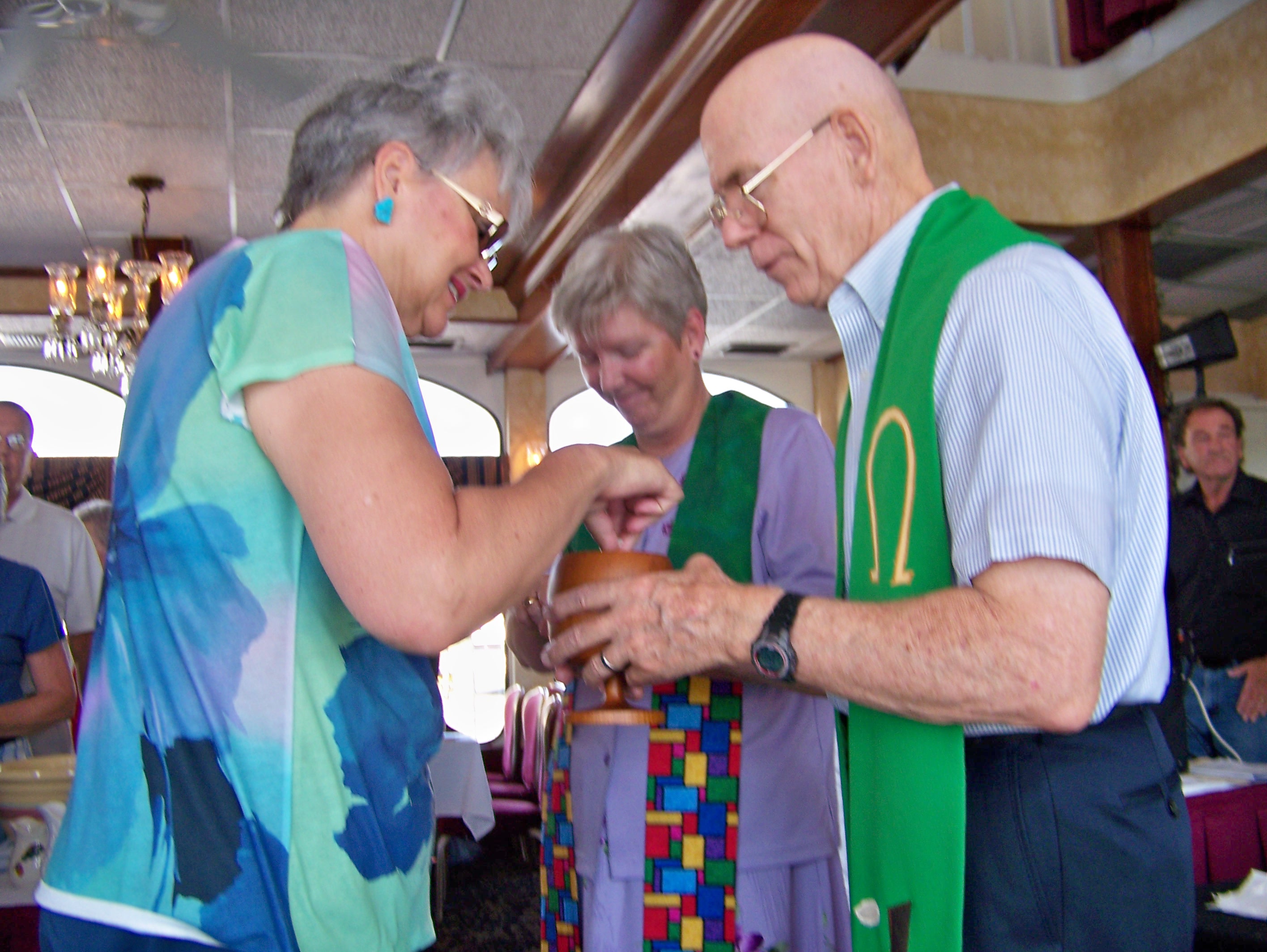 Port Orange Contemporary Music Team performing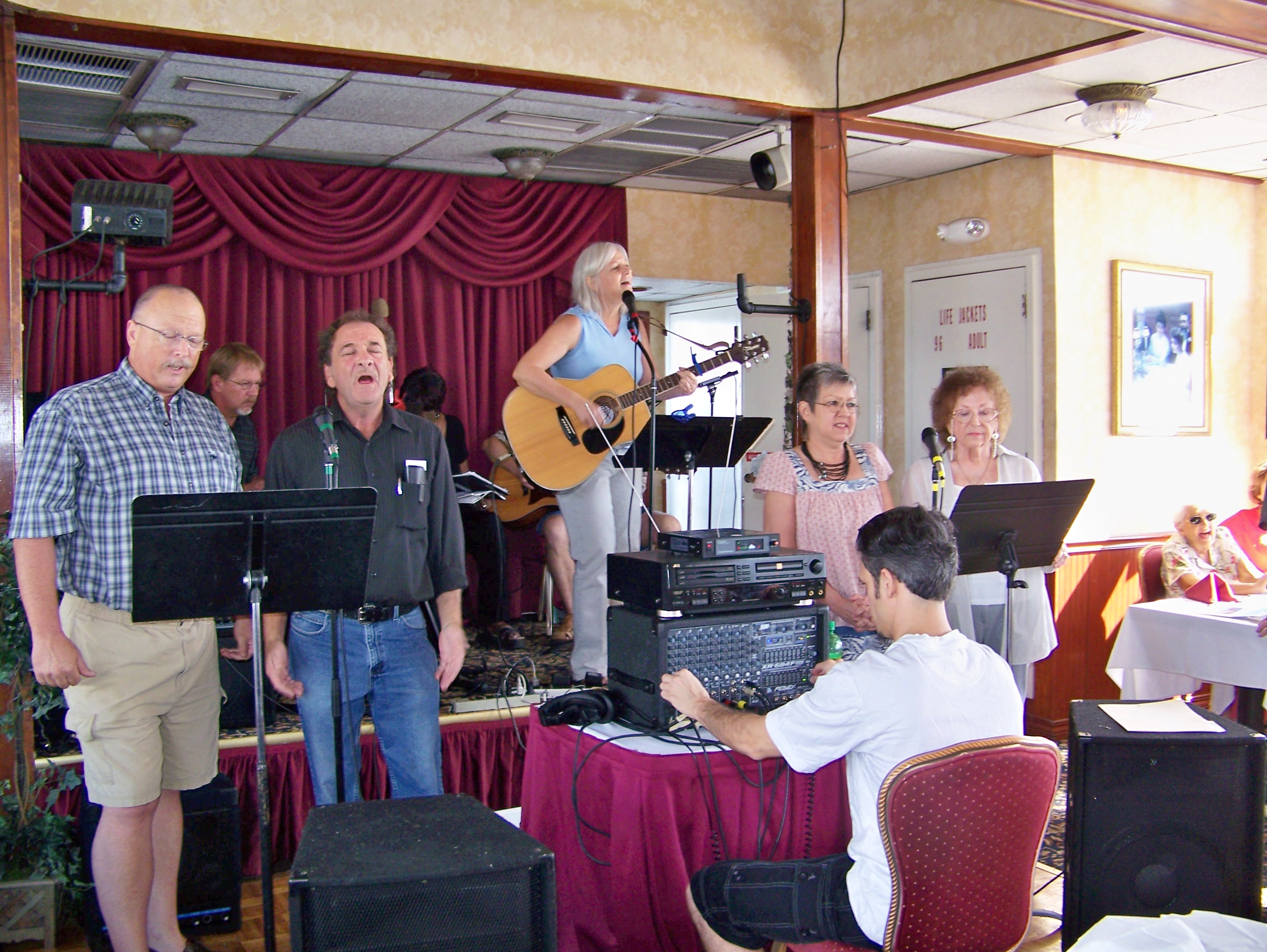 Mingling of the Waters ceremony.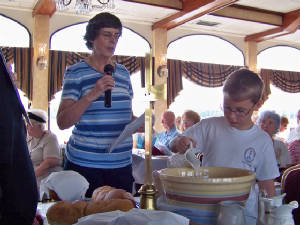 Please join us for "Worship on the Water" July 18, 2010 from 10am-3pm aboard the StarLite Princess, a 107' paddlewheel boat, for a unique worship-dining-cruising experience.
There will be up to 10 entrees to select from, with dessert, beverage and tip included in the ticket price.
Boarding of the StarLite Princess, located at Caribbean Jack's 721 Ballough Rd. Daytona Beach will begin at 10am, Worship service at 10:30am, dinner begins at 12pm and cruising from 12:30pm-3pm. The Pt. Orange UCC Contemporary Music Team will provide special music.
Tickets are available in the Union Congregational UCC office (386) 253-1323. Prices are $33.00 for adults and $22.50 for children.
Please join us!