On Sunday, June 5, 2011 Rev. Steve Heath was voted to become the Settled Pastor of Union Congregational Church United Church of Christ, Holly Hill, FL.
Together with his wife, Phyllis, they became members of the church at an induction liturgy conducted by former interim minister, Rev. Dr. C. William Wealand, during the regular worship service.
Following the service, a Congregational Meeting was held. A report from the Search Committee was presented and the Call Agreement was reviewed. Then ballots were cast and Rev. Steve was unanimously voted and welcomed as our new pastor.
Steve holds a B.A. from Middle Tennessee State University and Master of Divinity degree from Lexington Theological Seminary. He is a U. S. Navy veteran and is a former public school teacher.
Steve served for several years as a licensed local pastor in the United Methodist Church prior to attending seminary. He was ordained in the United Methodist Church and was a "member in full connection" of the Kentucky Conference of the United Methodist Church until he was formally granted Privilege of Call as United Church of Christ minister on May 1, 2011.
Phyllis grew up in Orlando and holds a B.S. degree from Middle Tennessee State University and a Master of Rehabilitation Counseling degree from the University of Kentucky. Phyllis formerly worked for UK in cooperation with the National Cancer Institute as a cancer information specialist. She currently works for the State of Florida as the supervisor of the Vocational Rehabilitation office in Ormond Beach.
To reach Rev. Heath you can call him at the office (386) 253-1323 or email him directly at: steveheath@cfl.rr.com
******************************************************
UCC REGIONAL CONFERENCE MINISTER
REV. RAYMOND HARGROVE
********************************************
Rev. Bill Wealand, UCC Minister and
Disaster Ministry Coordinator for the FL Conference with wife Deanna
**********************************
********************************************************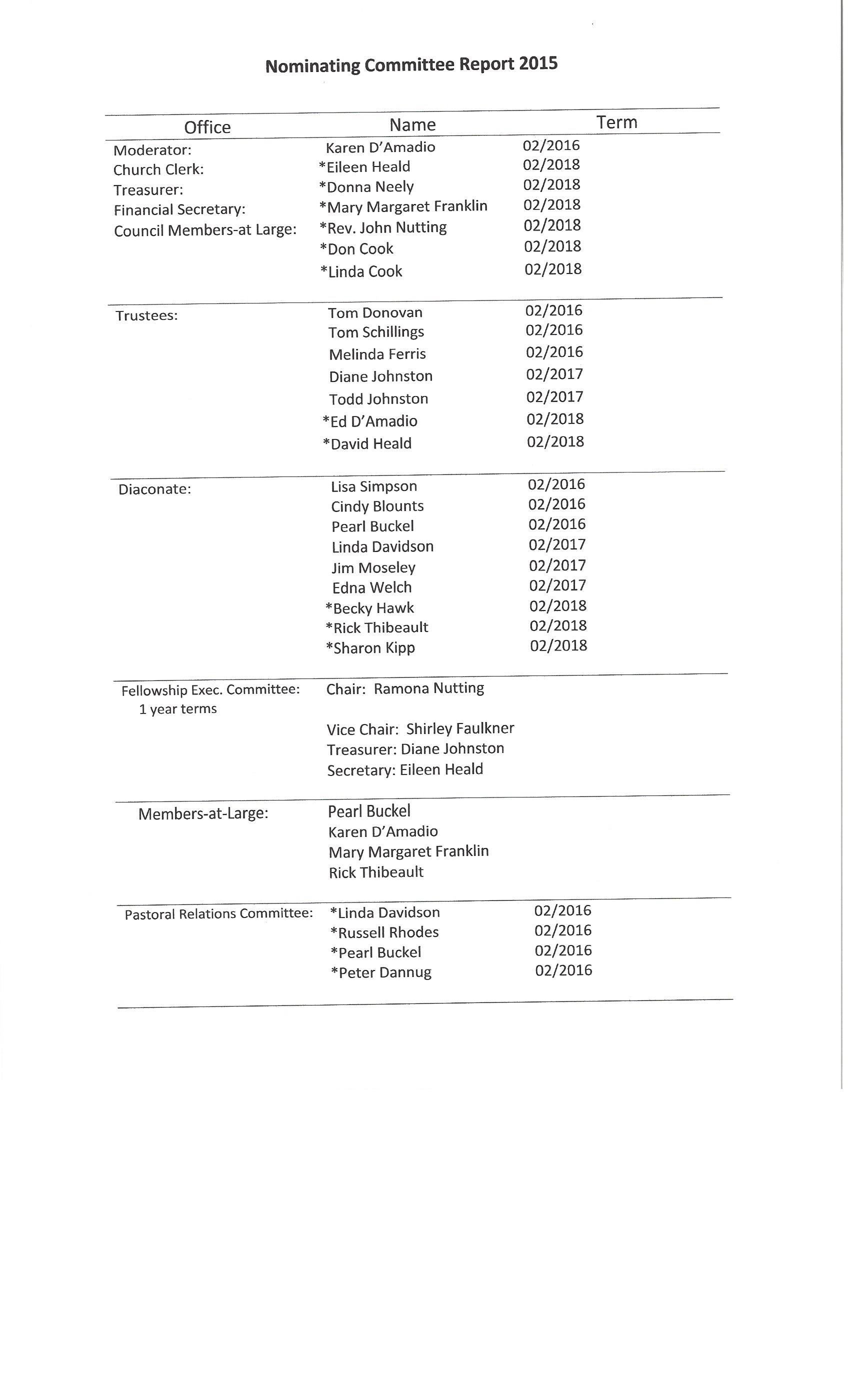 I'm delighted to serve at the UCC front desk. Pam Lawson (previous Church Secretary) helped me 'learn the ropes' here, and when I have a question, Rev. Steve is the best resource. Everyone I have met here is helpful and kind.
When my family and I relocated to Daytona Beach area from Maine in 1985, I was employed as a church secretary for 5 years, and also became that church's choir director. After this, I retired in 2010 from a local social service agency where I worked at the front desk for 15 years.
Union Congregational Church is a perfect home for me now, and I look forward to contributing my gifts to helping the church celebrate its first 100 years!
You can contact me by calling the church office at 386-253-1323



Rev. John R. Nutting
Church Historian
Rev. John (and his wife Ramona) spend their winters here and they are both very active in our church life. He was supply preaching to us while we were in the search and call process, and Rev. John and Ramona are also active on other church committees. Summers are not quite the same when our Northern Friends return to the Northeast Kingdom of Vermont.
********************************
The Rev. Joseph E. Stock is a retired UCC Pastor with over 42 years of active ministry in both pastorate and Army Chaplaincy. A native of Florida, he was ordained by the Northeast Association of the Florida Conference, UCC in December 1960. He was educated at UF and Vanderbilt (M.Div) and has graduate degrees in counseling from Long Island University (MS) and Asuza Pacific University (MA). He served in the Florida Conference for 6 years before being commissioned as a Chaplain in the US Army. He served as a UCC Army Chaplain for over 28 years before retiring at the rank of Colonel in 1993. He returned to Florida and served 6 mores years as a full time pastor and then 2 years at the Interim Pastor at Union Congregational Church. He and his wife, Corrinne, live in Ormond Beach. They have 3 daughters and 9 grandchildren.
Our church is blessed to have Rev. Joe and Corrinne Stock as members. Rev. Joe was a regular supply minister during our transition period.
*******************************************************
TOM DONOVAN - SOUND ENGINEER
**********************************************************
DAVID HEALD - OPERATIONS SUPERVISOR
******************************************************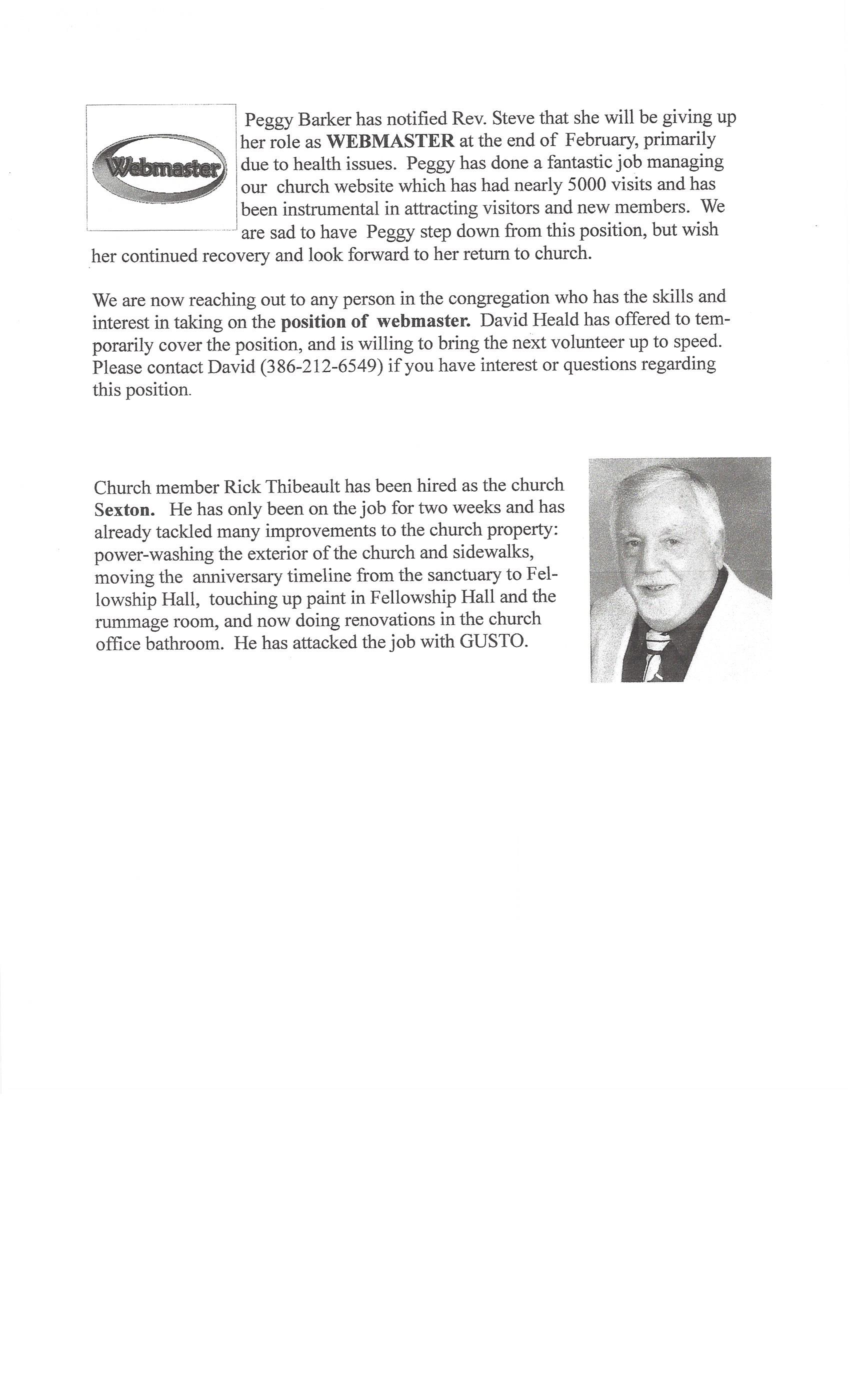 *********************************************
PASTORAL RELATIONS COMMITTEE
Russell Rhodes, Pearl Buckel, Linda Davidson, Peter Dannug & Rev. Steve Heath